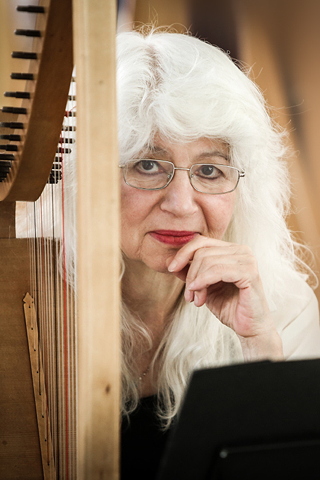 Foto: Christoph Hengelhaupt
zurück
Vortrag
What harpists can learn
from Konrad Paumann
Conrad Paumann was one of the most highly esteemed musicians of the 15th Century. A multi-instrumentalist, on his grave stone are depictions of harp, portative organ, recorder, rebec and lute and the inscription "… der kunstreichist aller instrament and der Musica maister …". Sebastian Virdung in "Musica getutscht" (1511) credits him with having invented german lute tabulature. One of his important contributions are didactic "Fundamenti" which serve simultaneosly as finger exercises and compositional exercises. The "Fundamentum organisandi" appearing at the end of the Lochhammer Liederuch is dated 1452 but there are at least three more of his works in this genre in the somewhat later Buxheimer Orgelbuch. It is possible that further Fundamenta in Buxheim might be attributed to him. Many of his instrumental settings of 15th songs have survived in the above mentioned manuscripts. Some of them can be played as written on a diatonically tuned harp with seven notes per octaves. Others work with hexachord tuning (eight notes per octave) and some are clearly not intended for solo harp. There are none the less possibilities for arrangements them for several instruments. Paumann's works serves as important examples of setting music for the medieval harp; including harmonic and melodic ornamentation, variation in the number of voices, built in preludes and extended cadences.
Judy Kadar
Judy Kadar, the Hungarian born harpist, is one of the pioneers of historical harp performance and research.
She attended the High School of Music and Art, New York University, Mannes College of Music and Sarah Lawrence College where she earned a Master's Degree in the performance of Medieval and Renaissance music. Harp instruction with Lucile Lawrence was an inspiration both during and after her formal education. She also studied Performance Practice with Richard Taruskin, Arabic Percussion with Farhan Sabbagh and Recorder with various teachers. In 1984, she initiated the very first Historical Harp Conference in the USA and served as its director for seven years. In 2019 she and Klaus Sonnemann celebrated the 30th anniversary of the ensemble COLLAGE-forum für frühe music berlin, which they founded and direct. For ten years, they directed and performed in the concert series "Historische Musik am Historischen Ort" in the Gothic Hall of the Zitadelle Spandau, Berlin. She has performed and taught in the USA, Europe and Australia and has substantial experience with music for theatre both as music director and performer (with Peter Zadek and Reinhild Hoffmann). In Berlin, she has organized events, such as "Berlin ehrt die Harfenjule", "Unvergessen – die Berliner Harfenjule" 2011 and "Konferenz zur historischen Harfe, zum Jahr der Harfe" 2016.